Automate Comptech Sales & Service
38-1, Jalan OP 1/5,
Pusat Perdagangan One
Puchong,
47160 Puchong,
Selangor, Malaysia.

+603-58860880

+603-80666532

Autocount Payroll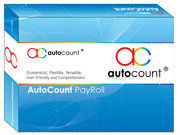 Add Quotation
AutoCount Payroll has complete function of Payroll and Leave. You can manage payroll and employee profiles in AutoCount Payroll
AutoCount Payroll is especially helpful for users with limited payroll knowledge. Its build-in labor law guide and integrated government reports ensure that your company payroll policy is in line with government labor law policy. You are not required to do year-end or month-end closing over payroll data. Its calendar-based leave selection enables you to select leave date with calendar and provides more clarity in data entry. Also, it provides you comprehensive and analytical report to help you manage company data.